LG AI Convertible 6-in-1 Cooling 2023 Model 2 Ton 3 Star Split AC – White  (RS-Q24ENXE, Copper Condenser)
2 Ton
3 Star BEE Rating 2023 : For energy savings upto 15% (compared to Non-Inverter 1 Star)
Auto Restart: No need to manually reset the settings post power-cut
Copper : Energy efficient, best in class cooling with easy maintenance.
Sleep Mode: Auto-adjusts the temperature to ensure comfort during your sleep
Warranty :1 Year Warranty on Product, 5 Years Warranty on PCB and 10 Years Warranty on Compressor
Delivery: 

Noida/Ghaziabad/Greater Noida: 24 hours. Delhi/Gurugram/Faridabad: 48 hours. 

Call 85100-55134, 87500-44355 to check for delivery & installation

.
Exchange Offer: Up to ₹ 5,000.00 off on Exchange. For details click here. For adjustment of exchange value please call us on 87500-44355.
Product Description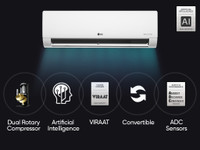 AI Dual Inverter
Integrated with variable tonnage technology, enhanced with Artificial Intelligence, the LG RS-Q14ENZE 2-ton Split Air Conditioner features an AI Dual Inverter that renders smart and powerful performance. In addition, this air conditioner has sophisticated features, such as a four-way swing and hyper-capacity cooling, ensuring optimal performance.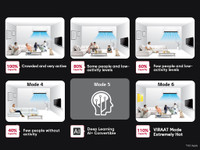 Convertible Cooling
Courtesy of its AI convertible six-in-one cooling, this air conditioner lets you tweak the cooling capacity as per your needs. In addition, with its inbuilt sensors and Artificial Intelligence Convertible mode, this air conditioner delivers ideal cooling by automatically analysing and interpreting sensor input.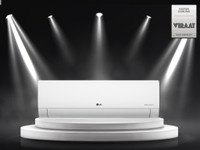 VIRAAT Mode
With its advanced VIRAAT mode, this air conditioner offers up to 110% cooling capacity. In this manner, this air conditioner instantly and continuously provides cool air into your space for an extended duration while operating at high fan speeds to ensure maximum comfort.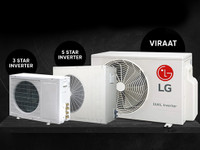 Efficient Performance
Offering high cooling capacity, this VIRAAT-enabled air conditioner ensures energy-efficient operation.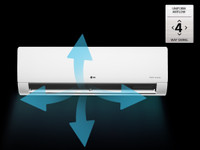 Four-way Swing
Offering horizontal and vertical swing action, this air conditioner offers improved airflow and even cooling.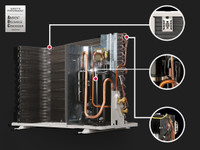 ADC Sensors
Sporting ADC Safety sensors, this AC delivers consistent, effective, and safe performance at all stages of operation for an extended period of time.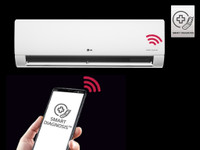 Smart Diagnosis System
Boasting a sophisticated diagnosis system, this air conditioner provides easy-to-understand fault warnings and remote diagnosis. So, you can connect with a nearby LG service centre and have the issue fixed right away.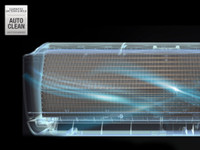 Automatic Cleaning
By automatically drying out the heat exchanger, this air conditioner's special function lowers humidity as well as the growth of mould and bacteria. You can live a healthy lifestyle as a result of this. Additionally, this AC reduces strong smells while preserving a clean environment and inhibiting the spread of bacteria and mould.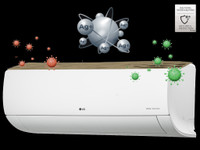 HD Filter
Equipped with an HD Filter that offers both antiviral and antibacterial protection (cationic AgNPs Technology), this AC offers efficient and long-lasting defence against bacteria, fungus, moulds, and viruses.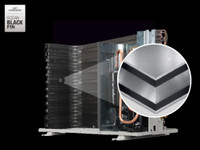 Ocean Black Fin
Thanks to its resistance to corrosion, this AC's Ocean Black Fin offers optimal protection against environmental dust, smoke, and chemicals. And, it prevents rusting on the fin.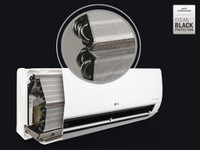 Copper Tubes
With an application of Ocean Black Protection on the copper tubes of both its indoor and outdoor units, this air conditioner ensures long-lasting durability in typical areas impacted by salt, industrial smoke, sand, and contaminants.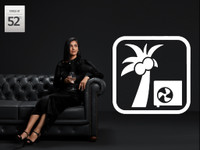 Exceptional Cooling Performance
Even if the outdoor temperature is as high as 52°C, this air conditioner's sophisticated technology ensures that you may keep cool and comfortable at all times.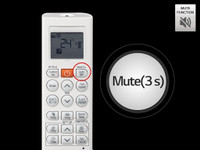 Mute Function
This air conditioner runs almost silently with just one button press. And, it will continue to run quietly no matter how frequently you press the remote's buttons.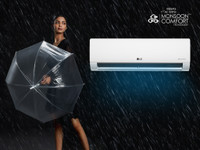 Monsoon Comfort
Owing to its Monsoon Comfort technology, this AC effectively regulates humidity, airflow, and room temperature even in humid situations to deliver comfortable cooling and maximise energy efficiency.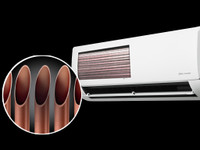 Hi-grooved Copper Pipes
Designed with high-grooved copper pipes, this AC offers high refrigerant heat dissipation as well as long-lasting performance.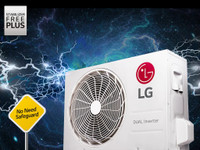 Stabiliser-free Operation
With LG's stabiliser-free plus operation, this air conditioner minimises voltage fluctuations without sacrificing comfort, safety, or efficiency. Additionally, an additional stabiliser is needed if the range of power fluctuation is more than 120 V to up to 290 V.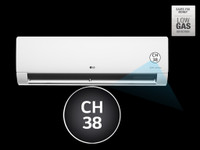 Gas Level Detection
This air conditioner is capable of detecting low gas levels and displaying CH 38 to facilitate quick maintenance and refill.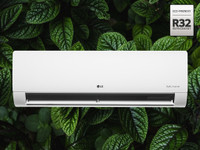 R32 Refrigerant
Incorporating an efficient R32 refrigerant, this air conditioner has a minimal global warming impact.
Full Specifications
General
In The Box

1 Indoor Unit
1 Outdoor Unit
User Manual
1 Power Cable
1 Remote
1 Install Plate
2 Installation Pipes

Brand
Model Name
Type
Capacity in Tons
Star Rating
BEE Rating Year
Color
Cooling and Heating
Cooling Capacity
Compressor
Dehumidification
Remote Control
Refrigerant
Operating Modes

Cooling Mode, Dehumidification Mode, Fan Mode, Auto Operation Mode

Condenser Coil
Dimensions
| | |
| --- | --- |
| Indoor W x H x D | 99.8 cm x 34.5 cm x 21 cm |
| Indoor Unit Weight | |
| Outdoor W x H x D | |
| Outdoor Unit Weight | |
Performance Features
| | |
| --- | --- |
| ISEER | |
| Other Performance Features | Stabilizer Free Operation, 4 Way Air Swing, 6 Fan Speed Steps, Auto Restart (Memory), Sleep Mode, On and Off Indicator |
Air Flow & Filter Features
| | |
| --- | --- |
| Auto Air Swing | |
| Air Flow Direction | |
| Anti-bacteria Filter | |
| Dust Filter | |
| Other Filter Features | 4 Way Swing, HD Filter with Anti-Virus Protection |
Convenience Features
| | |
| --- | --- |
| Auto Restart | |
| Timer | |
| Sleep Mode | |
| Memory Feature | |
| Self Diagnosis | |
| Other Convenience Features | Super Convertible 6 in 1 Cooling, AI Convertible, Ez Clean Filter, Low Gas Detection, Auto Clean, Self Diagnosis, ADC Sensor |
Power Features
| | |
| --- | --- |
| Power Requirement | |
| Power Consumption | |
Remote Control Features
| | |
| --- | --- |
| Battery Type | |
| Other Remote Control Features | 6 in 1 Button, Timer, Swing, Fan Speed, Comfort Air, On and Off Button, Set Temperature |
Services
Installation Details

The standard installation charges are Rs.1599 and need to be paid directly to the service engineer. Please check the offer details to know about any installation offers that are available. Standard installation of air-conditioners covers only: 1) Drilling of holes into a brick wall for taking out the pipes. 2) Fixing a hole sleeve & cap. 3) Fixing the indoor and outdoor unit. 4) Connecting indoor and outdoor units using the standard Kit provided by the manufacturer (at additional cost
unless specified otherwise). 5) Wrapping the pipe with seasoning tape. Not covered as part of standard Installation charges are: 1) Outdoor unit stand – Rs. 750-1000. 2) Extra copper wire – Rs. 600-800 per metre. 3) Drain pipe extension
if any – Rs. 100 per metre. 4) Wiring extension from the meter to the installation site – Rs. 100 per metre. 5) Stabilizer
if needed
is chargeable. 6) Plumbing and masonry work. 7) Power-point, MCB fitting and any other electrical work. 8) Carpentry work. 9) Dismantling, shifting of the old AC's masonry – Rs. 1000-1500. 10) Core cutting fabrication and electrical.

Technician Visit Details

Authorized Service Engineer will do the following
Provide replacement to the customer in case part / product not repairable (only after replacement request approved)
Repair Services
Repair/change the defective part

Uninstallation Details

In case of returns
Uninstall
Pick-up the product.
Flipkart's team will visit the customers location
Pack
Warranty
Warranty Summary

1 Year Warranty on Product, 5 Years Warranty on PCB and 10 Years Warranty on Compressor with Gas Charging

Covered in Warranty

All Parts, Excluding Air Filter, Front Grill & Plastic Parts (After Installation). The Warranty Covers Defective Materials and Workmanship From the Date of Purchase. Beyond the First Year of the Warranty Period
Only the Compressor Repair (Excluding Gas Filled Inside the Compressor) Will be Provided Free of Cost for 5 Years From Date of Purchase. Refrigerant Gas is Having Only One Year Warranty

Not Covered in Warranty

Parts: Air Filter/Front Grill is Not Covered in the Warranty After Installation. The Warranty Does Not Cover Installation/Demonstration. Accessories External to the System. Damage parts. The Product is Not Used According to the Instructions Given in the Instruction Manual. Defects Caused by Improper Use as Determined by the Company Personnel. Modification / Alteration of Any Nature is Made in the Electrical Circuitry or Physical Construction of the Set. Site (Premises Where the Product is Kept) Conditions That Do Not Confirm to the Recommended Operating Conditions of the Machine. Defects Due to Cause Beyond Control Like Lightning, Abnormal Voltage, Acts of God, While in Transit to Service Centers or Purchaser's Residence.

Warranty Service Type