Samsung 1.5 Ton 3 Star Windfree Technology, Inverter Split AC (Copper, Convertible 5-in-1 Cooling Mode Model)
WindFree™ Cooling with 23,000 mircoholes

Convertible 5in1 Modes

Anti Bacteria & Dust Filter

4 way Swing, 100% copper condenser with Durafin Ultra Coating

Warrnty: 1 year comprehensive warranty, 9 year warranty on compressor
Delivery: Noida/Ghaziabad/Greater Noida: 24 hours. Delhi/Gurugram/Faridabad: 48 hours. Call 85100-55134 to check for delivery & installation.
Installation charges: 1480/-
Exchange Offer: Up to ₹ 5,000.00 off on Exchange. For details click here. For adjustment of exchange value please call us on 87500-44355.

Get GST invoice and save up to 28% on business purchases.
Stay comfortably cool without feeling cold
WindFree™ Cooling
Stay comfortable cool with WindFree™ Cooling. It gently and quietly disperses air through 23,000 micro air holes, so there is no unpleasant feeling of cold wind on your skin. Its advanced airflow also cools a wider and larger area more evenly. And it uses 77% less energy than Fast Cooling***.
* ASHRAE (American Society of Heating, Refrigerating, and Air-Conditioning Engineers) defines "Still Air" as air currents at speeds below 0.15m/s which lacks the presence of cold drafts.** Tested on the AR12TXCAAWKNEU model. WindFree™ mode generates only 23dB of noise, compared to 26dB with the Samsung conventional model.*** Tested on the AR07T9170HA3 model, based on the power consumption of Fast Cooling mode vs. WindFree™ Cooling mode.
Reduces energy use by 77%* to save money
WindFree™ Cooling (Energy Saving)
Save money every day with highly energy-efficient WindFree™ Cooling. When operating in WinFree™ mode, the outdoor unit consumes minimal power – using up to 77% less electricity compared to the Fast Cooling mode*. So you can stay comfortably cool without worrying about your electricity
Customized energy control with a 5 Step mode
5 step Convertible Cooling
Save energy, but still stay cool. 5 Step mode* uses customized compressor operation from 40% to 120% which control energy consumption.It lets you cool more efficiently when it's not too hot outside or just save energy and money at any time,so you don't have to worry about the electricity bills.
Lasting protection, optimal performance
Durafin™ Ultra
Safeguard the Heat Exchanger from damaging corrosion. The Durafin™ Ultra has an anti-corrosive layer and a hydrophilic layer that protect the Heat Exchanger from rust. Its superb corrosion-resistance was proven in a Salt Spray Test (SST)*.
Designed to cool faster, wider & farther
Fast Cooling
Cool rooms quickly from corner to corner, so you're always comfortable. Digital Inverter Boost technology cools the air 43% faster*. Its advanced design also has a 15% larger fan, 18% wider inlet and a 31% wider blade. So cool air is dispersed farther and wider**, reaching up to 15 meters.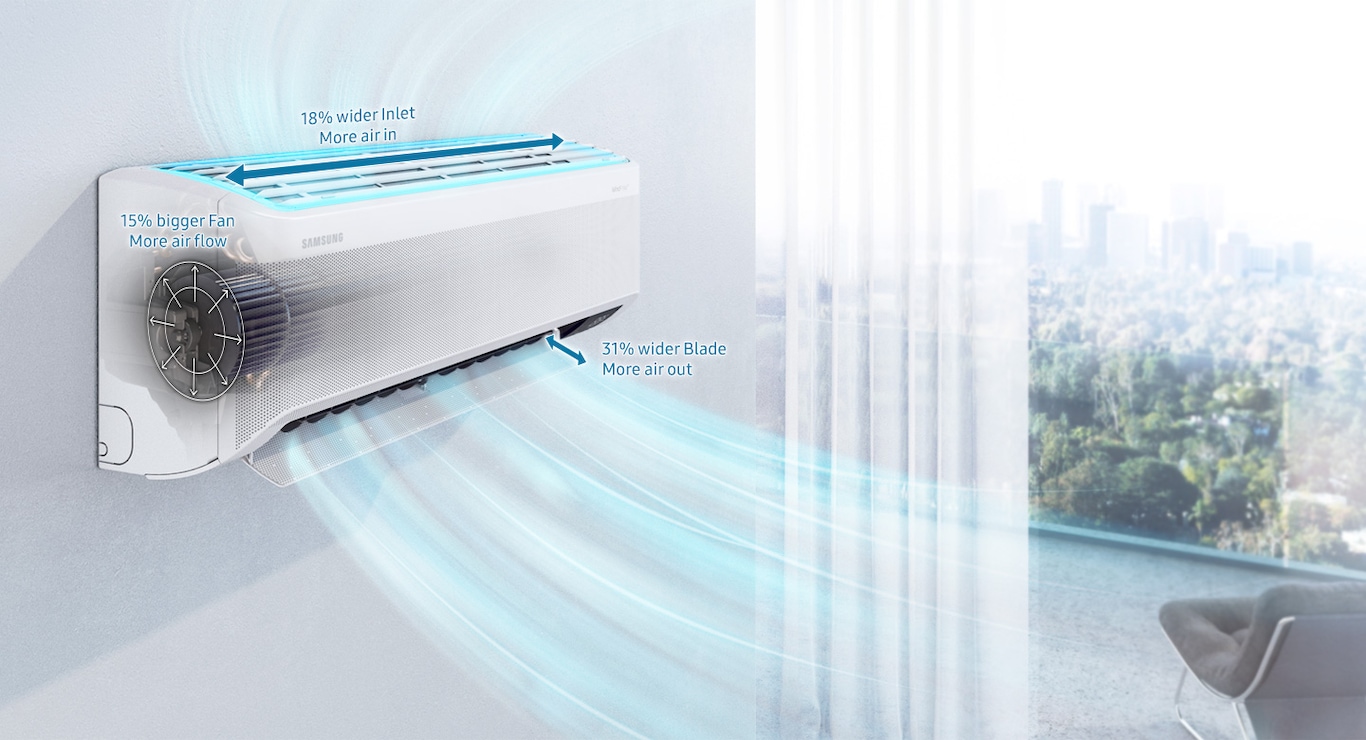 Stable and durable in harsh conditions
Triple Protector Plus
Enjoy a long-lasting performance in challenging environments. Triple Protector Plus technology prevents damage from power surges and fluctuating electrical currents*. Its anti-corrosion coating also protects the condenser and cabinet in harsh conditions.
* Tested on the AR12TXEAAWKNEU model compared with the Samsung conventional model AS18FCMID.
Easy to clean anti-bacterial filter
Easy Filter Plus
Keep your air conditioner working efficiently with less effort. The Easy Filter Plus is located outside, on the top, so it can easily be taken out and cleaned. Its dense mesh keeps the Heat Exchanger clean and an anti-bacterial coating helps protect you against dangerous airborne contaminants*.
Sleep much better throughout the night
WindFree™ Good Sleep
The WindFree™ Good Sleep mode creates the ideal climate for sleeping – without an unpleasant cold air flow. Its temperature control with WindFree™ Cooling helps you fall asleep fast, sleep deeply and comfortably, and wake up feeling fully refreshed.
Less Noise
Cool your living spaces with less noise, so it doesn't disturb you. The compressor creates a powerful airflow, but works really quietly as it includes a Twin Tube Muffler. It reduces the refrigerant flow noise when operating at high speed and minimizes ambient noise during low speed operation.
Wide airflow with 4wayauto swing
4way Swing
Control the wind direction Up/Down, Left/Right using remote controller. Control the wind to your desired location.
Simply cleans itself – automatically
Auto Clean (3 Steps)
Keep the inside of your air conditioner hygienic by doing nothing! After it has been working, the Auto Clean function automatically dries the Heat Exchanger using a 3-step process. It removes moisture by blowing air for between 10 to 30 minutes. So it prevents the build-up of bacteria and odors.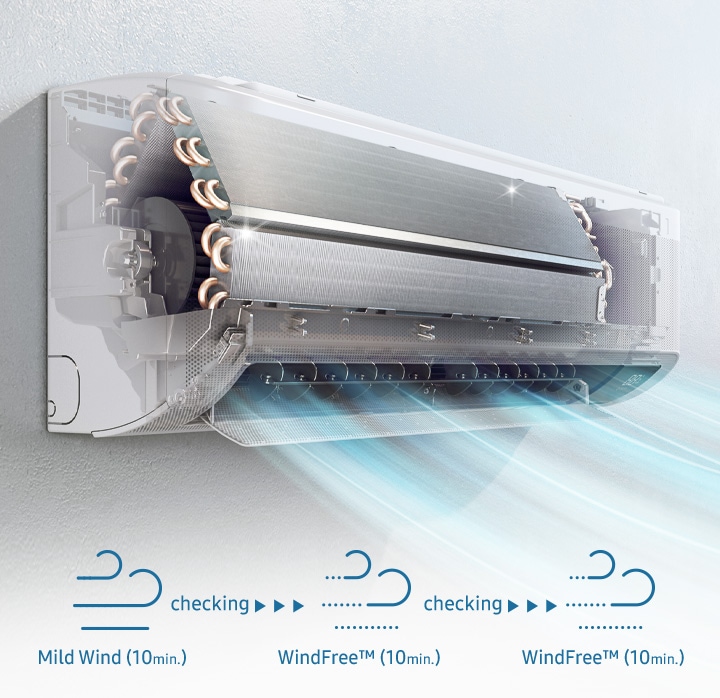 Environmentally friendlyrefrigerant
R32 Refrigerant
Protect the planet by reducing the impact of climate change. The air conditioner uses the next generation R32 refrigerant, which helps conserve the ozone layer and has a low impact on global warming compared to conventional R22 or R410A refrigerants. So it's much more environmentally friendly*.
* Tested on R32 refrigerant compared with Samsung conventional refrigerants R410A and R22.