Samsung 415 L (RT42B5468SL) 2 Star Top Mount Freezer with Twin Cooling Plus Double Door Refrigerator
Multi Door
Freezer Top mounted
415 L Capacity
LED display
2 Star
Convertible, Frost Free
Coolpad
Door Alarm, Door Lock
Delivery: 

Noida/Ghaziabad/Greater Noida: 24 hours. Delhi/Gurugram/Faridabad: 48 hours. 

Call 85100-55134, 87500-44355 to check for delivery & installation

.
Exchange Offer: Up to ₹ 4,000.00 off on Exchange. For details

 

click here

. For adjustment of exchange value please call us on 87500-44355.
Get GST invoice and save up to 18% on business purchases.
Technical Details
GENERAL
| | |
| --- | --- |
| Country of Origin | Thailand |
| Brand | Samsung |
| Model | RT42B5468SL |
| Type | Multi Door |
| Panel Display | LED display |
DESIGN AND BODY
| | |
| --- | --- |
| Weight | 67 kg |
| Height | 1785 mm |
| Width | 675 mm |
| Depth | 715 mm |
| Freezer Mounted | Top |
| Handle Type | Bar Handle |
| Tempered Glass | Yes |
INTERIOR FEATURES
| | |
| --- | --- |
| Interior Lamp | Yes |
| Shelf Material | Tempered Glass |
| Ice Tray | Yes |
| Egg Tray | Yes |
| Bottle Shelves | 2 |
| Freezer Shelves | 1 |
TECHNICAL
| | |
| --- | --- |
| Capacity | 415 L, Refrigerator 303 L, Freezer 112 L |
| Compressor | Digital Inverter Compressor |
| Refrigerant | R-600a |
| Cooling Technology | Twin Cooling Plus |
COOLING FEATURES
| | |
| --- | --- |
| Frost Free | Yes |
| Express Freezing | Power Freeze, Power Cool |
| Air Circulation | Multi Flow |
| Temperature Control | Yes |
EXTRA
| | |
| --- | --- |
| Sales Package | 1 Refrigerator, User Manual, Warranty Card |
| Coolpad | Yes |
| Doors Count | 2 |
| Door Lock | Yes |
| Door Alarm | Yes |
| Other Features | Convertible |
WARRANTY
| | |
| --- | --- |
| Warranty Type | Technician Visit |
| Product Warranty | 1 year |
| Compressor Warranty | 10 years |
| Warranty Details | 1 year |
Digital Inverter Technology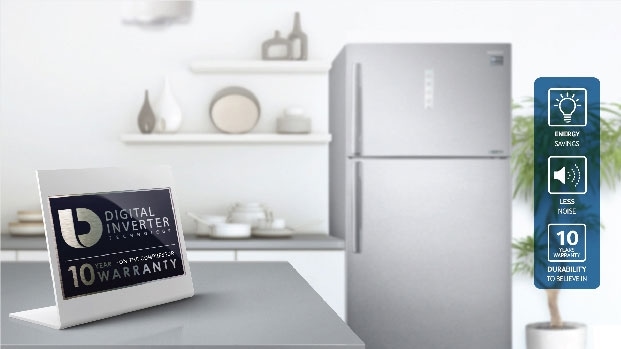 Works longer more quietly & uses less energy
Digital Inverter Technology automatically adjusts the compressor speed in response to cooling demand across 7 levels. It uses less energy, minimises noise and reduces wear and tear for longer-lasting performance. * Based on internal testing compared with Samsung conventional model.
Twin Cooling Plus
Moisture-Full Freshness all over the fridge
Only Twin Cooling Plus™ creates a favourable environment for preserving fresh food in the fridge with 70% humidity, compared to 30% in a conventional Frost Free Refrigerator. So it keeps ingredients fresh for longer without drying out.
Deliciously tasty, odor free frozen food
The Twin Cooling Plus™ system cools the compartments separately to stop unexpected odors spreading from fridge to freezer. So frozen food retains more of its original flavor.
Convertible 5 Modes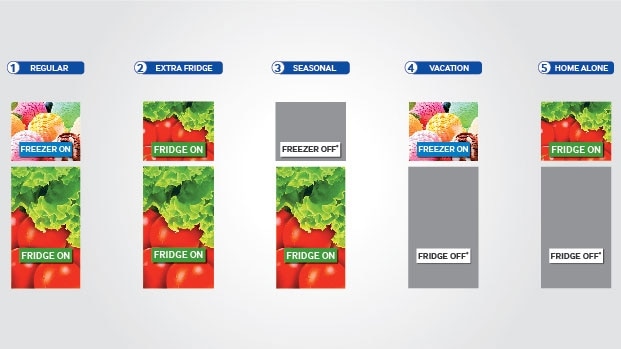 Introducing worlds first Smart Convertible 5-in-1 Refrigerator powered by Twin Cooling Plus™ technology that allows the freezer to convert into a fridge with five different mode options.
Apart from Normal Mode this comes with Extra Fridge Mode which is perfect when there is a need for additional fridge space. So now if you bring home more bags home just convert your freezer into fridge with 'Extra Fridge Mode'.
If you are going out on vacation & need to store some food in freezer, simply switch on 'Vacation Mode' and keep only the freezer on & turn off the fridge section.
With change of season just switch to 'Seasonal Mode' keep only the fridge on & switch off the freezer.
When alone at home and don't have a lot to store just switch to 'Home Alone Mode' that switches off the fridge and converts freezer section into fridge.
And not only the 5 conversion modes are the perfect solution to different storage needs but every mode also save energy giving more savings.
*Section is in idle mode.
10 Year Warranty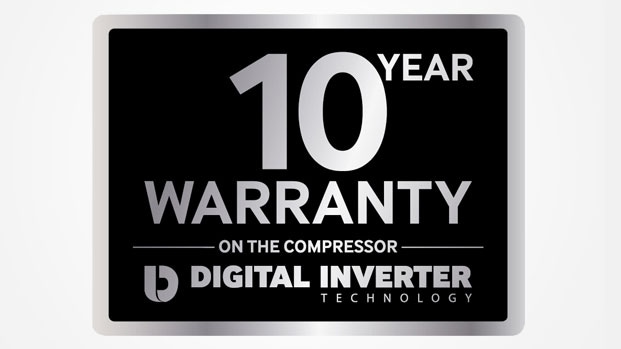 Enjoy the peace of mind that comes with a 10-year warranty on the compressor of Samsung refrigerator powered with Digital Inverter Technology.
Smart Connect Inverter (Automatic)
Now, you can connect the refrigerator to your Home Inverter without any worries. Go ahead and enjoy uninterrupted cooling to keep your food fresh even during power cuts. Connect Inverter enables the refrigerator to work even when there is a power cut in the house and the refrigerator has switched to back up power.
Coolpack 12 Hours
The Cool Pack feature in the freezer of this Samsung refrigerator comes to the rescue during power outages. It keeps food frozen up to 12 hours*, maintaining a temperature below 0 °C.
*Result basis on Samsung internal lab test conditions. Individual results may vary.
Power Cool
Chill food 31%* faster with the Power Cool feature on this Samsung refrigerator. With faster chill, food will stay optimally fresh for longer and beverages will be quickly chilled.
*Result basis on Samsung internal lab test conditions. Individual results may vary.
Power Freeze
Now never run out of ice cubes. The Power Freeze feature on this Samsung refrigerator allows up to 31%* faster ice making, thus conveniently reducing the waiting time. Have ice cubes anytime with the push of a button.
*Result basis on Samsung internal lab test conditions. Individual results may vary.
Digital Display
The LED display add a touch of sophistication while putting a wealth of controls at your fingertips. Change temperature settings or turn on Power Cool to quickly chill recently bought items.
Anti-Bacteria Protector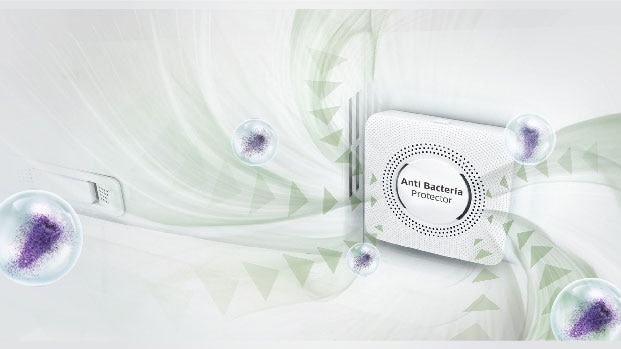 Keeps air hygienically clean and fresh
An Anti-Bacterial Protector keeps the fridge clean and hygienic. Air is passed through an Activated Carbon filter, so it is constantly sterilized and deodorized, while an anti-bacterial mesh eliminates bacteria.
Twist Ice Maker
Samsung Twist Ice Maker is easy to use. Simple twist is all you need to dispense ice cubes. Also Comparatively less freezer area means fast ice making, which means you can have more ice cubes in short time of period.
Multi Storage box
The Multi Storage Box provides a safe and separate place to store non-food items that need to be refrigerated, such as cosmetics or medicines. Or, use it to hold all your sauces and salad dressings. Since the box is detachable, you can conveniently carry all your condiments to the table in one trip.
Freshroom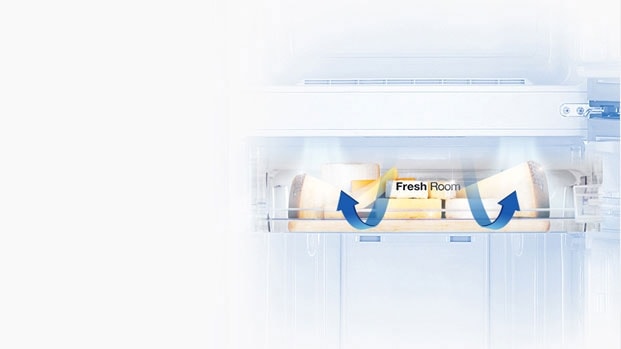 The Fresh Room is a cooler compartment that ensures freshness even if you frequently open the fridge door. It's the ideal place to keep green salad and dairy food, like cheese, as they will stay fresher for longer.
Big Bottle Guard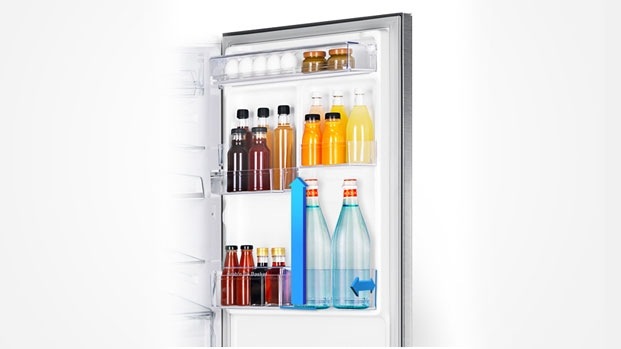 Ideal for the thirsty household, the Big Guard is deeper than shelves found in conventional refrigerators. So you can store big containers of milk and juice in the door, along with two rows of beverage cans and bottles. The Big Guard is also great for chilling tall drinks bottles.
LED Light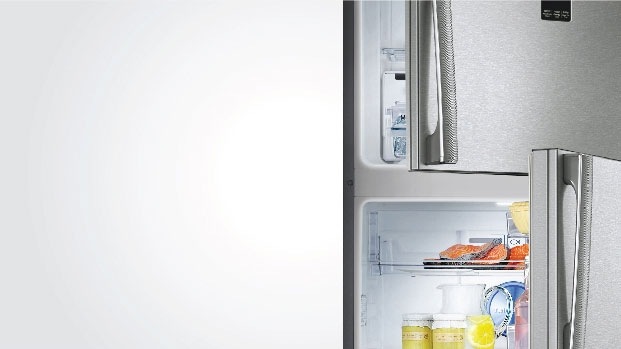 The Samsung Refrigerator's high efficiency and long lasting LED lighting is slimmer, brighter and more power-efficient than conventional lighting. Located on the top side of the refrigerator compartment, it brilliantly illuminates every corner of the interior space so it is much easier to find what you're looking for.
Door Alarm
Now even if you forget to shut your refrigerator door the refrigerator is smart enough to alert you with its Fridge Door Alarm. So, you don't have to incur extra electricity costs and there's no risk of food getting spoilt.
Lock & Key
You have the provision of keeping your refrigerator under lock and key, if and when required. It could be to prevent your kids from sneaking out delicious pudding behind your back.
Bar Handle
The stylish handle of the new collection is designed to lend a touch of glamour to your interiors and at the same time adds to your convenience.